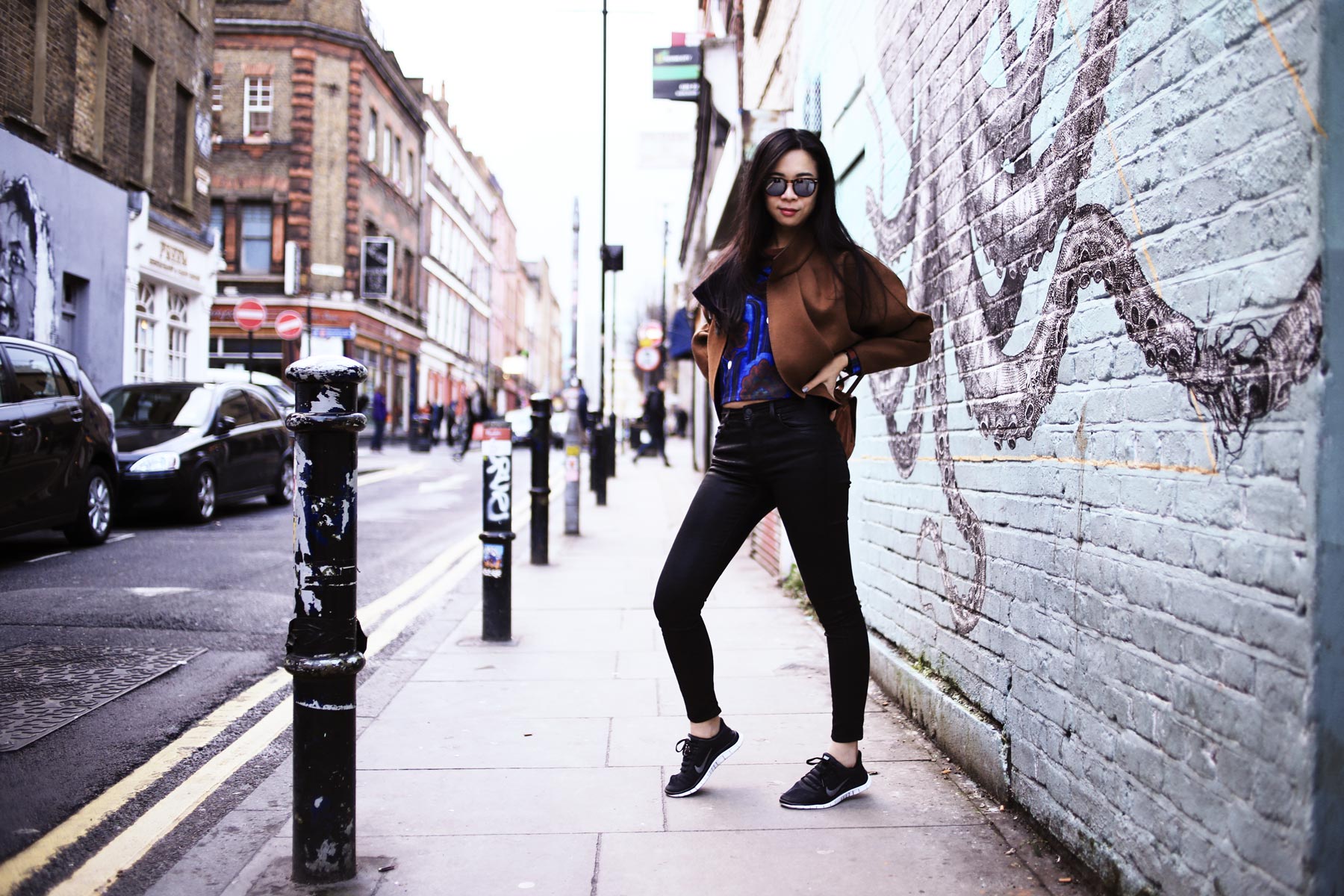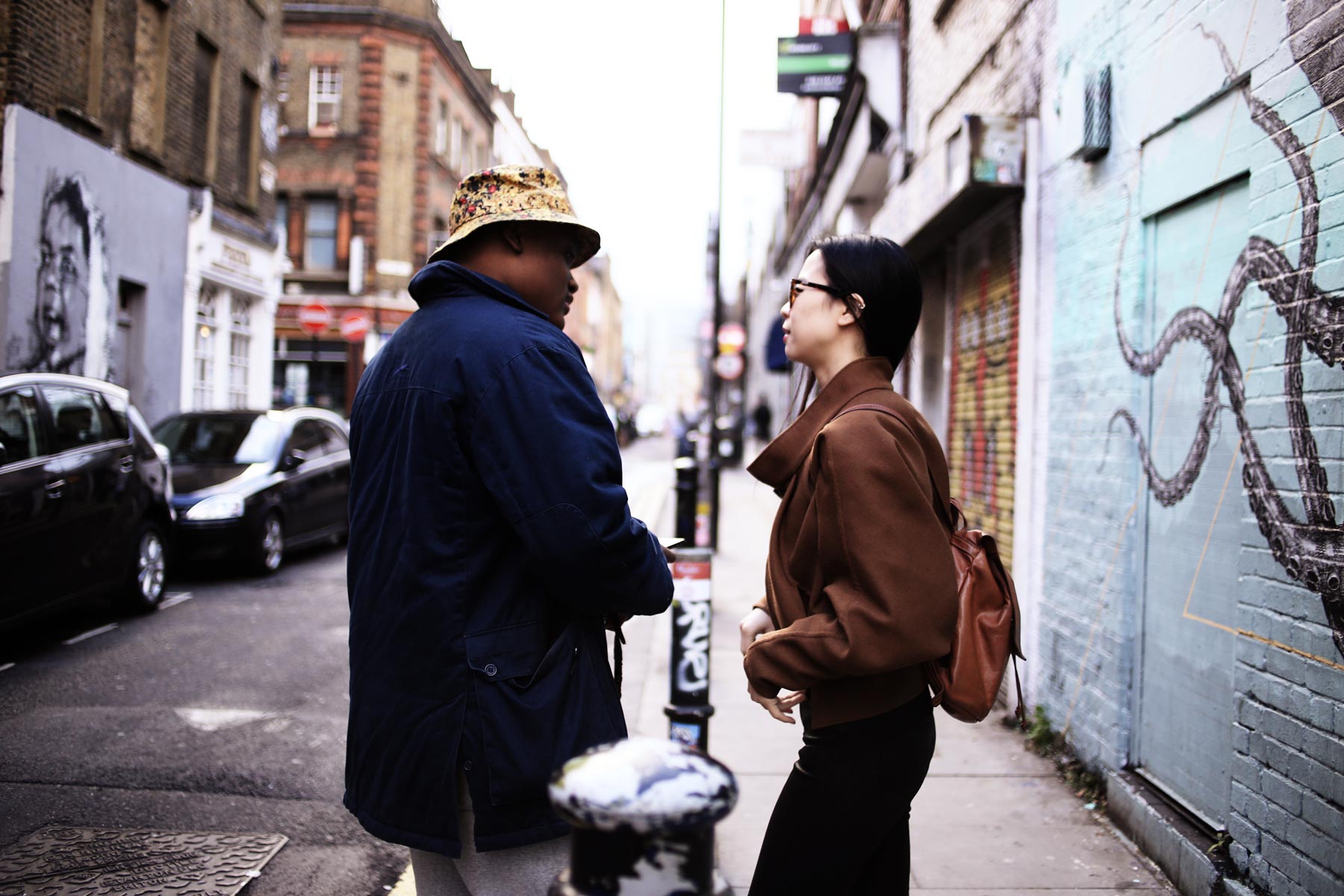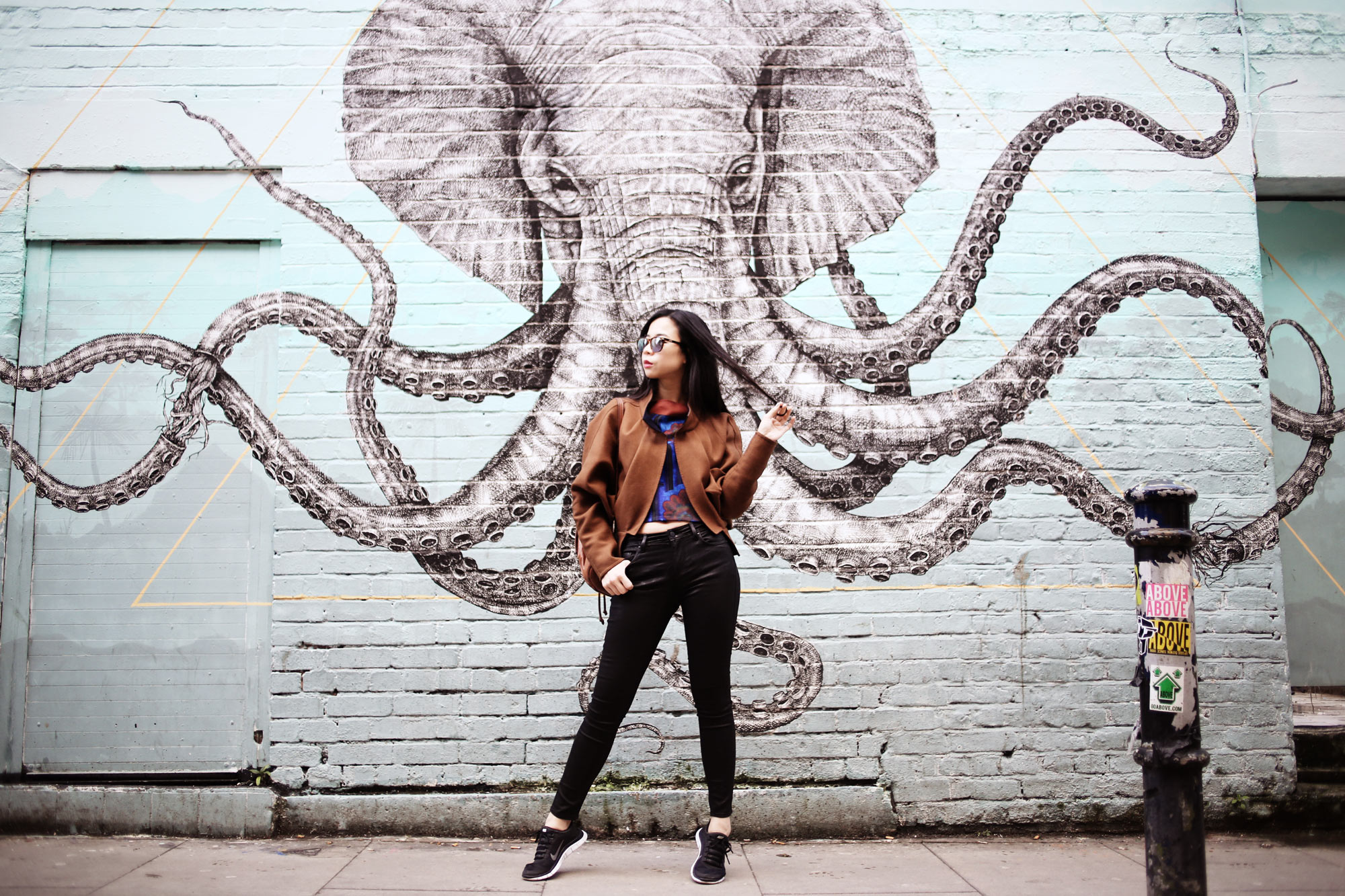 我聽朋友說,可以在Liverpool Street Station周邊找到Banksy的塗鴉,所以我特別再跑去找一次。我想,很少人不是Banksy的粉絲吧,他以稍許戲謔的手法來詮釋社會問題,舉凡政治、社會階級不公到同性戀議題,將街頭塗鴉轉化為當代藝術,城市就是他的藝廊,替無趣的街道增添了強烈的Style,似乎這才該叫做Street Style。
可惜Banksy藝廊可遇不可求,我在Liverpool Street這邊轉了一下午,逛了曾經好逛但現在擠滿中國人攤位的Spitalfields Market, 在多到不行的二手店裡走不出來,走來走去,就是不見Banksy蹤影。但我在Brick Lane的尾端巧遇了這隻"象章"後,反倒讓我真正睜開眼睛欣賞滿街美麗的塗鴉藝術。這隻"象章"出自波多黎各藝術家Alexis Diaz之手,世界各地都能找到他的足跡,他的特色在於混合不同的動物和素材,將主題"拼湊"出來,在賦予些幾何元素,給人一種非常現代的超現實感。加上我對Tiffany Blue也有些少女的嚮往,所以更加喜歡這個塗鴉。
如果光是走在路上都能有這麼棒的藝術品能欣賞,相信身為一個藝術家或設計師,若能待在倫敦,靈感肯定源源不絕,更不用提那些免費的美術館和藝廊了,整個倫敦就是免費的美術館。巴黎像是博物館,處處是美麗的古蹟和雕塑,米蘭則像間工廠,完全是為了商業而存在,城市實在沒什麼美感。所以我覺得米蘭出匠才,巴黎出鬼才,倫敦出奇才,真的不是沒有道理,從"Street Style"就能看出一二。
掰的位,圖中的黑人先生是在路邊認識的潮牌設計師:)
I'm always a fan of Banksy. I love how he manage society problems with an ironic touch in his graffitis. It's definitely one of the best contemporary art to me, because it's fun, beautiful and meaningful. He made me think that a street can be a gallery as well, he styled the street, and that's a real "Street Style".
Unfortunately I didn't meet his work here around Liverpool Street station. I lingered and lingered, still no. However, I met this amazing Elephant Octopus on the end of Brick Lane and it widened my eyes! This beautiful graffiti was made by Puerto Riocan artist Alexis Díaz. You can find his works all over the world, he's famous by mixing elements together and gives a surreal final result. I like it so much, especially with that Tiffany blue on the back, haha sorry I AM a shallow girl anyway.
I think you can define people by the street style of their city. If you are an artist or designer who lives in London, you must be lucky. Not only there are galleries and museums for free, the whole city is a gallery. How nice it is to simply live in one.
By the way I was talking to a street style clothing designer that I just ran into on the street:)
What I Was Wearing
sunglasses Spektre
coat Maryling
top Fabitoria
jeans TOPSHOP
backpack Vintage
sneakers Nike Free 3.0
photo by Eliana Kuo
Styled by Yu Lee
All rights reserved by YUTOPIA